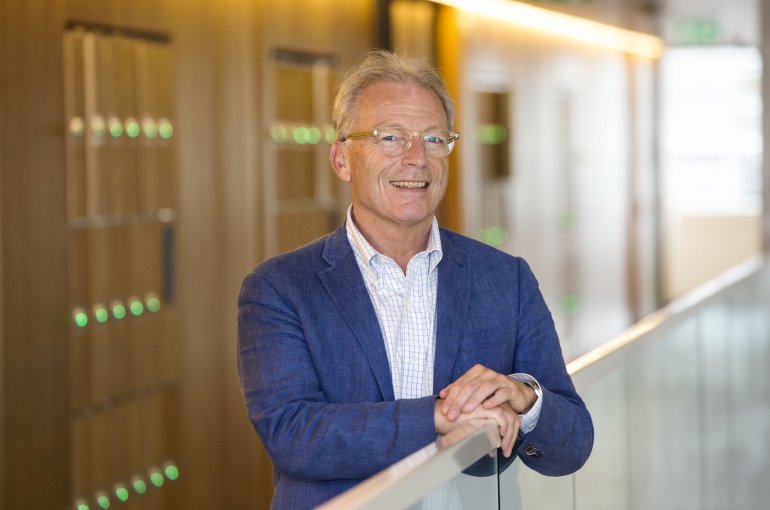 08 Jun

Peter Luijten: "UBC is a valuable new member of the Strategic Theme Life Science"
Vice-dean of the Strategic Theme Life Sciences welcomes UBC members.
Since the start of 2023, UBC is embedded in Utrecht University's Strategic Theme Life Sciences. Joining the theme opens a huge network for UBC members to establish new collaborations and strengthen ongoing research, says Peter Luijten, vice-dean of the Strategic Theme.
2023 has brought some changes for the Utrecht Bioinformatics Center. Apart from having a new daily board, the UBC is now embedded in the Strategic Theme Life Sciences. Although the process of embedding may not have been apparent to all UBC members, joining the Strategic Theme promises to create broad range of opportunities, says vice-dean Peter Luijten.
When the Utrecht Bioinformatics Center took off, back in 2012, it was set up as a so-called Focus Area of Utrecht University. Focus Areas were created to link fundamental research to social missions. Serving as testing grounds for specific research themes, Focus Areas aimed to explore new paths and create new partnerships. After ten years of maturing as a Focus Area, the UBC now has joined forces with a wide array of research groups within the Strategic Theme Life Sciences.
Can you briefly introduce the Strategic Theme to UBC members?
At the Strategic Theme we try to connect researchers who have a lot in common, to reach out and establish valuable collaborations and partnerships. We try to connect fundamental research, and push for collaborations that can really have an impact. In our Strategic Theme a huge variety of researchers participate, from doctors, and fundamental researchers to clinical scientists and engineers.
In a number of areas, our approach has been highly successful. For instance, tumor immunology in Utrecht is now world-renowned. We succeeded in this because fundamental researchers of the Faculty of Science, who are active at the very beginning of the research pathway into the pathological process, connected with the immunologists at UMC Utrecht. This resulted in joint projects, and now we see the first applications in the Princess Máxima Center.
How can members benefit from joining the Strategic Theme?
Being part of the Strategic Theme makes it easier to gain access to life science initiatives on our campus. For example, it is much easier to join large research projects. One example is Oncode-PACT, a huge project funded from the Dutch National Growth Fund. Numerous research groups worked together to set up that project. The project is now at full steam, and many different research groups based at the Utrecht Science Park are reaping the benefits from this collaboration.
What role does the board of the Strategic Theme fulfill in this?
The team behind the Strategic Theme acts as a kind of booster to speed up processes. For large grant applications, such as Oncode-PACT, we can operate very quickly. For instance, when researchers work on complex grant applications, including all sorts of challenges in developing public-private partnerships, we are there the offer help. We also actively reach out to researchers. As a result, we know which groups are doing great, and we encourage them to create new opportunities.
What can UBC members contribute to the Strategic Theme?
UBC totally endorses the core values and principles of the Strategic Theme, developing fundamental research towards real impact. Bioinformaticians play a hugely important role in these processes.
From the start, the UBC operated with one leg in the Faculty of Science and the other in UMC Utrecht. The UBC was actually set up because huge streams of research data were being generated, particularly in genomics. The question was how you should manage such huge amounts of data. Nowadays, many more research areas face the same challenges. UBC members are used to working with high performance computing. Researchers from other areas of expertise may be very interested in this and can offer valuable insights as well.
For instance, former UBC board member Jeroen de Ridder is developing a new technology and transfers it to the operating room of the Princess Máxima Center. This technology allows brain surgeons to do real-time assessments during operations that have a direct impact on the outcomes of the treatment.
Has bioinformatics played a significant role in your career?
Certainly. And I have experienced firsthand how bioinformatics can really make great strides when hands are joined. Before my appointment at UMC Utrecht, I worked as the scientific director of the Center for Translational Molecular Medicine. Basically this was a network of projects aiming to transfer scientific results in medicine to clinical practice. Cooperation between academic hospitals was crucial for this. To establish the required level of cooperation, we had to create new ideas about sharing data. But back in the day, all hospitals had their own bioinformatics groups, who operated rather isolated.
Eventually, we managed to get over our differences in research culture and opinions. Across the entire the bioinformatics landscape in the Netherlands, important steps have been made to reach out and collaborate. Eventually, this resulted in Health RI, the Dutch national initiative to facilitate and stimulate an integrated health data infrastructure.
For me, it's truly inspiring to see how bioinformatics these days continues to grow and establish new connections between different areas of research. The UBC members that I have met feel the same way; they are genuinely interested in learning, collaborating and working together.