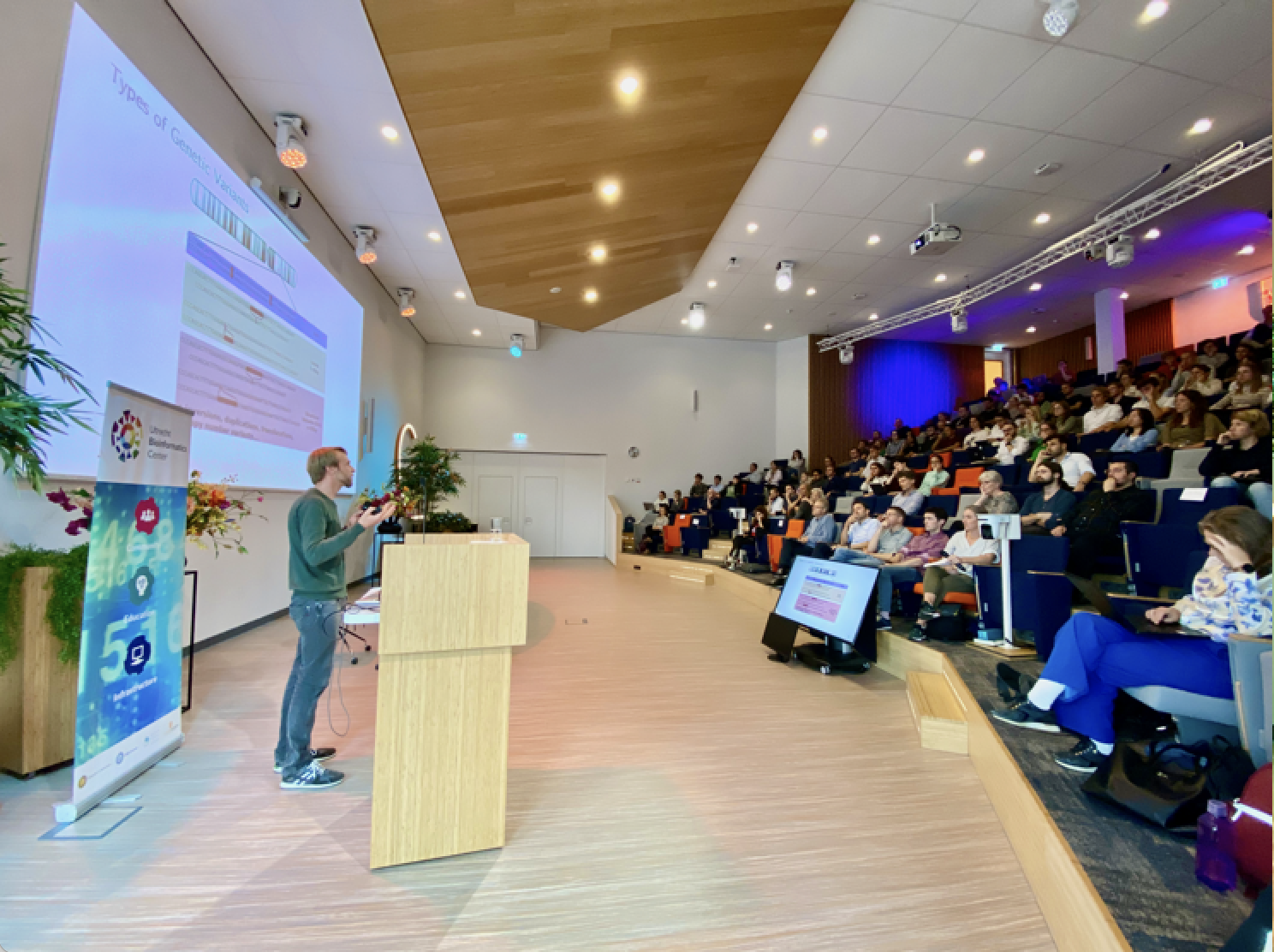 20 Nov

UBC looks back on successful 9th Annual UBC Symposium
The 9th UBC Symposium, held at the Princess Máxima Center proved to be a resounding success, attracting a record-breaking 170 participants. The annual symposium serves as a platform for the Utrecht bioinformatics community to meet, exchange knowledge, and discuss the latest advancements in the field.
Hosted at the Princess Máxima Center, the symposium welcomed bioinformatics researchers from all companies and knowledge institutions located at Utrecht Science Park. This included Utrecht University, the Hubrecht Institute, Princess Máxima Center, and the HU University of Applied Sciences Utrecht.
Education and AI research labs
UBC Board member Ronnie de Jonge and UMC Utrecht professor Carl Moons kicked off the day. Focussing on bioinformatics education, Ronnie challenged the audience to update and create new curricula for bioinformatics courses, a call well-received by attendees. Carl focused on the recent opening of five new AI research labs at UMC Utrecht. The symposium's program also included keynote talks by Prof. dr. Vera van Noort, Dr. Laura Villanueva, and Prof. dr. Tobias Marschall, pitch talks, a walking lunch with poster presentations, and a closing ceremony followed by drinks. Notably, the poster presentation by Susanna Grigson received the Best Poster Prize, earning its presenter 150 euros. The event also provided ample opportunities for networking and collaboration among bioinformatics community members and researchers.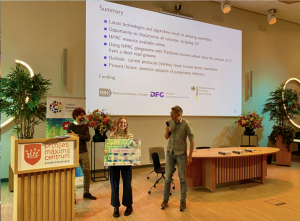 Pitch talks
The pitch talks predominantly delved into deep learning and machine learning, culminating in the announcement of a new groundbreaking paper by Jeroen de Ridder's team at UMC Utrecht. Their paper, "Ultra-fast deep-learned CNS tumor classification during surgery", was published in Nature on the same afternoon. The paper describes a revolutionary AI technology that allows neurosurgeons to determine the type of brain tumor within 1.5 hours, significantly expediting the decision-making process during surgery.
Inspiring edition
Reflecting on the symposium, Ronnie de Jonge expresses great satisfaction, noting the enthusiasm for bioinformatics research among participants. He shared, "Across all participants, I felt a lot of enthusiasm for bioinformatics research. This was certainly a very inspiring edition." De Jonge eagerly anticipates next year's edition. "Like my fellow Board members, I'm looking forward to next year's edition. As our scientific field continues to evolve and grow so rapidly, we will undoubtedly have a lot to share with each other."